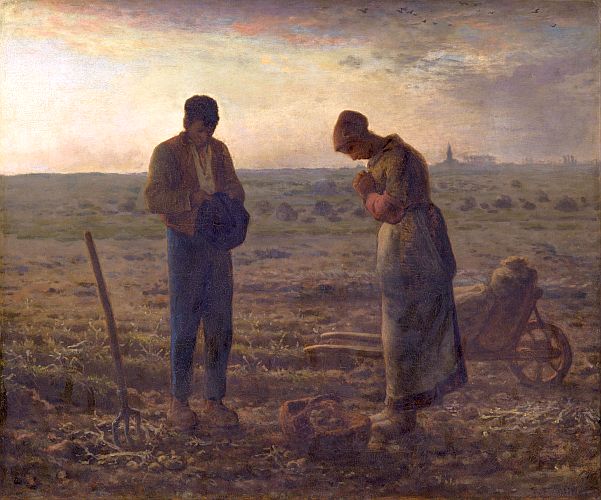 For
centuries
, the Angelus has been prayed at noon and 6 PM (and midnight if you are a college student).:
(1) "The Angel of the Lord declared unto Mary."
(2) "And she conceived by the Holy Spirit."
(1 + 2) "Hail Mary, full of grace ..."

(1) "Behold, I am the handmaid of the Lord."
(2) "Be it done unto me according to Thy word."
(1 + 2) "Hail Mary, full of grace ..."

(1) "The Word was made flesh."
(2) "And dwelt among us."
(1 + 2) "Hail Mary, full of grace ..."

(1 + 2) "Pour forth, we beseech Thee, O Lord, Thy grace into hearts, that we to whom the Incarnation of Christ Thy Son was made known by the message of an angel, may by His passion and cross be brought to the glory of His resurrection through the same Christ our Lord. Amen."
In this famous Millet painting, the workers of the field are pausing to pray the Angelus. Though it sometimes takes some effort to break from what I am doing, I receive great encouragement to join them and the many others who have added and are adding prayer to their workday in the same simple way.
I try to pray the Angelus every workday at noon. If I am still in my office at 6 PM, I try to pray it then too. (But hopefully I've already left for home!)